About Us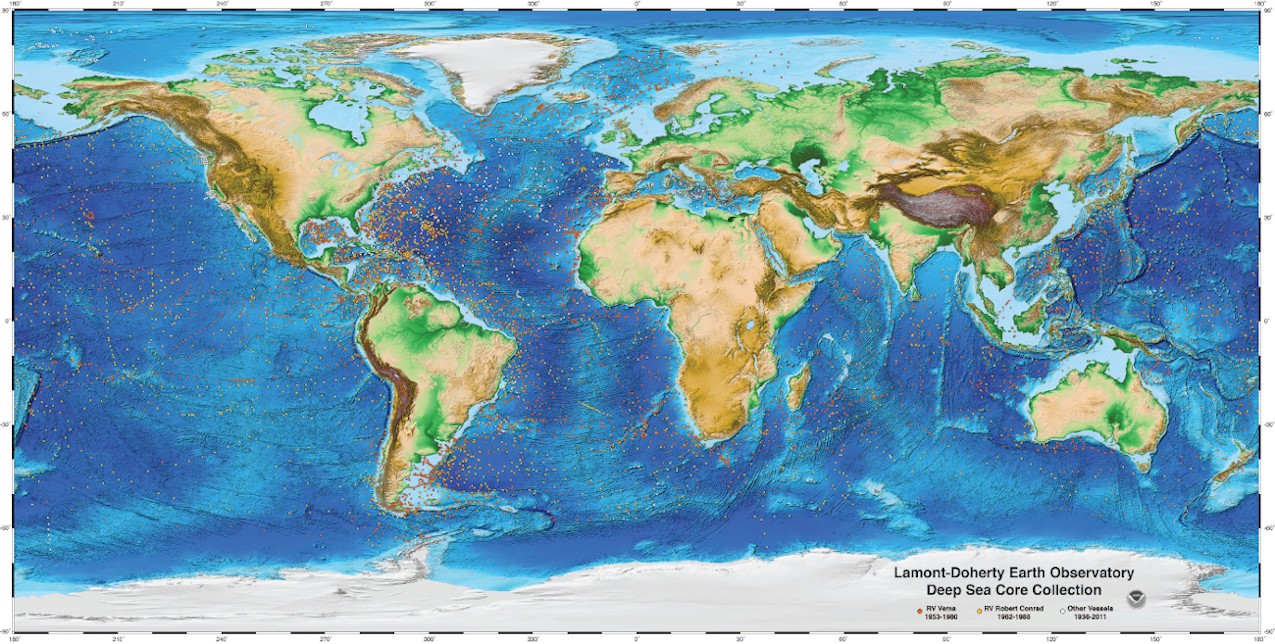 The Lamont-Doherty Core Repository (LDCR) contains one of the world's most unique and important collection of scientific samples from the deep sea. Sediment cores from every major ocean and sea are archived at the Core Repository. The collection contains approximately 72,000 meters of core composed of 9,700 piston cores; 7,100 trigger weight cores; and 3,000 other cores such as box, kasten, and large diameter gravity cores. We also hold 4,000 dredge and grab samples, including a large collection of manganese nodules, many of which were recovered by submersibles. Over 100,000 residues are stored and are available for sampling where core material is expended.  In addition to physical samples, a database of the Lamont core collection has been maintained for 50 years and contains information on the geographic location of each collection site, core length, mineralogy and paleontology, lithology, and structure, and more recently, the full text of megascopic descriptions.
Over the nearly seven decades of its existence, this unique and unparalleled facility has evolved from the scientific collection of a small number of extraordinary Lamont scientists to the present-day repository which serves the national and international Earth Science community.  Maurice Ewing's foresight in collecting "A core-a-day" created a scientific legacy that now constitutes one of Earth Science's foremost oceanographic and geologic resources. It is because of this function, service to the community, that the LDCR receives significant operational funding from the National Science Foundation.
Our Mission
To provide for long-term curation and archiving of samples and cores collected by the geoscience community in order to ensure their preservation and usefulness to current and future generations of Earth scientists.
To serve the needs of the national and international geoscience community by fulfilling sample requests and providing relevant data.
To assist investigators from any institution in the planning and execution of sample collection activities, including sea-going expeditions, while providing short-term exclusive access to sample material as well as long-term storage and curation of those samples.
To educate teachers, students, and the public about the important role science and the Core Repository play in building a better understanding of Earth processes such as climate change, ocean acidification, evolution, and tectonics.